Ecosystem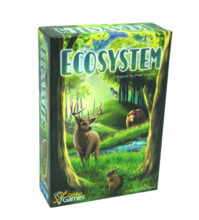 Stock information
: $19

.95

(AUD)

: Genius Games
: Genius Games
: 653341737403
:
:
:
:
:
:
: 19.95
: games
653341737403
Local Description
Build your own ecological network in Ecosystem, a biologically-derived card drafting game. Players choose, pass, and arrange eleven different card types consisting of organisms ranging from bees to bears and environments like streams and meadows. Earn points by aligning animals with habitats where they most flourish.
Biodiversity is rewarded while monocultures are penalized. Each time you play, you build a one-of-a-kind ecosystem, striving to balance the delicate connections between all living things
Perfect for ages 14+
Description
In Ecosystem, 2 to 6 players draft cards and build adynamically scoring, personal play area of 20 cards. These 20 cards will be made up of streams and meadows, bears and bees, and maybe even a dragonfly or two. At the end of the game, these cards will score points based on their own unique scoring methods. The player with the most diverse, highest scoring ecosystem will be the winner!
Ecosystem can be taught in a matter of minutes, and played in about 15. Players of all ages will learn the rules quickly, and will be focused on building their own unique, organic strategy during their very first game.
Ages: 14 + | Players: 2 - 6
In the Box:


130 x Cards


6 x Player Aids


1 x Scoreboard


Rulebook